Farming is hard work. You take pride in being connected to the land and producing quality food. It's not just what you do; it's who you are. Yet, it's important to remember that everyone can be vulnerable to stress and illness without good coping strategies.
Ways to Build Positive Mental Health and Be Resilient
Resiliency is what helps you look at a situation realistically, let go of things you can't change, recognize the helpful supports in your life and take action where you can -  control your temper, keep accurate farm records, and practice farm safety.
Research shows that while some people seem to come by resilience naturally, anyone can learn to adopt the following behaviors to better cope with the challenges of farming and everyday life:
Set realistic goals and expectations daily (for the farm or your farm work); be aware of and set achievable goals (for yourself).
Make a reasonable TO DO list. A plan that outlines what is needed, who is responsible for what and by when can help to set priorities and manage stress. It's also important to clearly and kindly communicate expectations with others involved.
Focus on what was accomplished, rather than what was not accomplished.
Seek support and advice from your spouse, family, friends, and colleagues.
Take time off the farm and spend time with family and friends.
Add fun and laughter to your life.
It's also important to take a break away from farmers, from time to time, and talk to friends from different backgrounds.
Find a type of exercise that you enjoy to get in some physical activity beyond your daily farm chores. Check out the Canadian Physical Activity Guidelines for Adults.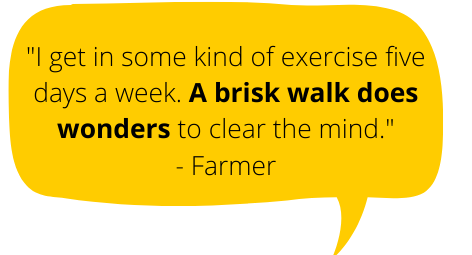 Learn to say "no" to external requests for your time and energy as a way to manage stress and maintain a healthy balance. By setting boundaries, you are practicing self-care.
Talk to your bank manager and accountant – let them know of issues so they can help.
Develop a strong sense of purpose, particularly in relation to caring for the environment.
Accept there will always be change. Develop the necessary tools for resiliency and the ability to survive challenges.
Eat a variety of healthy foods every day and avoid those high in sugar, sodium and saturated fats to reduce your risk of chronic disease. Explore Canada's food guide for healthy eating recommendations.
Try to get enough sleep each night by following guidelines for good sleep habits.
Drink alcohol responsibly. Do not drink if you take medications or other drugs that interact with alcohol. Follow Canada's Low-Risk Alcohol Drinking Guidelines.
Talk about your worries with someone you trust and respect: a friend, partner, parents, doctor, clergy, physician, or the Farmer Assistance Program.

Sources:
10 Ways to Take Care of Your Mental Health
Treat yourself with kindness and respect.
Stay connected with family and friends.
Take time for activities you enjoy.
Learn to recognize and manage stress.
Be active
Learn to relax.
Learn to say "no"
Slow down and spend time in nature.
Continue to learn.
Get help when you need it.